Crochet Santa Face Appliqué
Guess who's coming to towns? It's this free crochet Santa face pattern. It's the holiday season and it's time to begin your holiday crochet patterns. This pattern is so quick and simple that you will be able to complete it in under 10 minutes.
Very little yarn is used for this pattern. I used Red Heart Super Saver yarn in your choice of Flesh tone and red. I also used Bernat Pipsqueak  yarn. 
More Crochet Pattern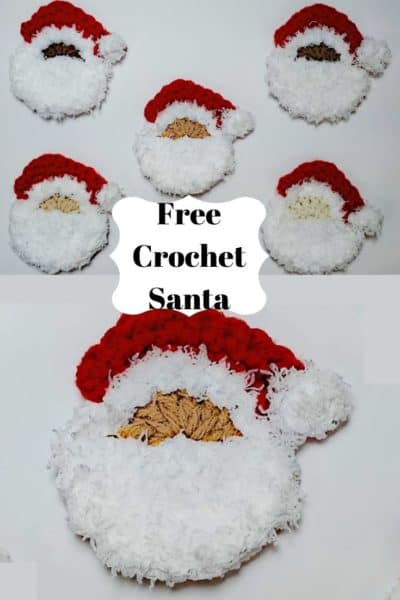 Written crochet Santa Claus pattern
Materials
Redheart yarn #4 Worsted weight(color A) Fleshtone & (color B) Red
Stitches
Slp st- Slip Stitch
Sk- Skip 
Sc- Single Crochet
Hdc- Half Double Crochet
Dc- Double Crochet
Use Youtube video to follow along to pattern
Magic ring or Ch 4 slp st to first ch to form a ring.
Round 1(color A): Ch 1, 6 dc into the ring, (switch to color C) 6 dc into the ring. (12)
Round 2: 2 Sc in next 6 sts, 2 dc into next 6 sts, slp st into base of same dc, fasten off. (24)
Hat
*attach yarn in next unworked st
Row 1 (color B): Ch 1, sc in the next 10 sts, turn. (10)
Row 2: Ch 1, sk 1, sc, hdc, 2 dc in the same st, hds, sc in the next 4 sts, slp st, fasten off.
Add a small pom pom to right side of Santa Hat
More Crochet Patterns
Weekly Inspiration For The Crochet Entrepreneur | Getting Off Track
There will be times while on our journey in life where situations will occur that may cause us to get off track. You know the feeling, when you just don't feel right but can't put your finger on it. It may have been that one situation that threw you for a loop. It may have caused you to get bent all out of shape, as the old folks would say putting you in a tizzy.
How can we get back on track when stuff happens? What can we do about some of those situations? When we take time to contemplate about whatever has occurred,  there are numerous ways to get our act together. Ranging from getting professional help to using plain old common sense. If you stick your unprotected hand in a fire, you will get burnt. There are always consequences for every action or inaction.
Now, what can we do when life gets in the way? What are some things that tend to get you off track?  By not wanting to deal with situations that cause us to be distracted or upset we tend to procrastinate. We end up sabotaging ourselves. PROCRASTINATION is just one of the biggest enemies that we let defeat us. Making the decision that you want to make a difference to get back on track is a start. Getting from point A to point B is all personal to you. How fast or slow you want to get there and the amount of energy you are willing to put in is up to you. There are many paths to getting back on track.  
Life is full of distractions, time limitations and family commitments. For example, what would you do when that toxic family member or friend does something to get  on your last nerve? Your creative spirit is in the dumps. We all have that one person that turns everybody and everything upside down, think about how you will respond.
Just putting a little thought ahead of time and having a plan in place on setting boundaries could be a start. It is up to you how you will react to different situations. 
" Nobody can hurt me without my  permission."  Mahatma Gandhi
~ Written by Diane Brown