Crochet Snowman Video Tutorial
Adorable Crochet Snowman Pillow
It may be 95 degrees outside but it's never too early to prepare for Christmas. Making this crochet snowman pillow instantly puts me in a festive mood. You can start these projects now and have some done for Christmas- but they can also be used into January and February. These look like a lot of fun!
Your holiday decorating won't be complete without this cozy crochet snowman pillow! I'm envisioning a whole family of them sitting on my sofa🙂 They would also make a wonderful handmade gift for anyone during the holiday season.
I'm participating in the Christmas in July Make Along with Underground Crafter.  31 crafty bloggers have gotten together to make the ultimate Holiday Make Along including crochet, knitting, sewing, and crafting projects. There's something new to make every day in July. Each week will have a theme.
Week 1 (July 1-7): Babies, Kids, and Teens
Week 2 (July 8-14): Women
Week 3 (July 15-21): Gifts for Anyone
Week 4 (July 22-28): Home
Week 5 (July 29-31): Pets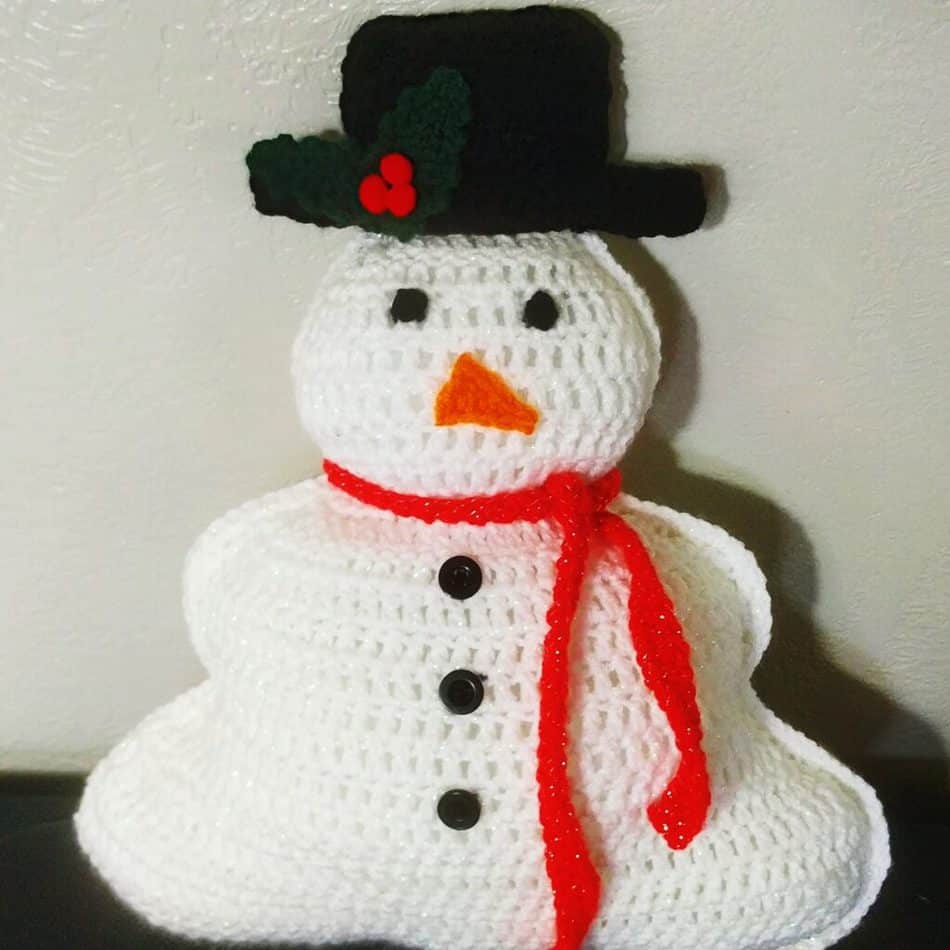 SCROLL DOWN FOR FREE WRITTEN PATTERN
Get the ad-free, large print, printable Crochet Bag pattern PDF  HERE. Scroll down for free version
Grab the Ultimate Pattern Bundle that includes 28 of my patterns just like this one for under $20 HERE.
PIN this pattern to your Pinterest boards for later HERE.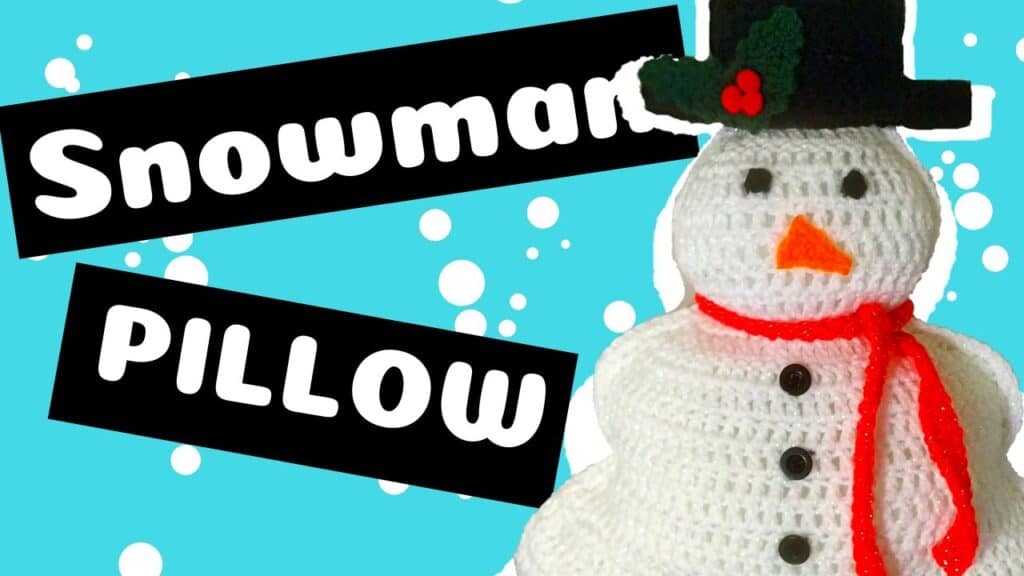 Material
"Red Heart with Love" Metallic #4 Worsted weight yarn in white (200 yards), black (30 yards), red (20 yards), orange (10 yards)
5.5 mm Hook
Tiny red pom poms
Scissors
Needle
Polyfil
 Note: Video pattern uses 5mm hook. The choice is yours. A 5mm hook will create tighter stitches with a slightly smaller pillow
Abbreviations (US Terminology)
Ch- Chain Stitch
Sl St- Slip Stitch
Sc- Single crochet
Hdc- Half double crochet
Dc- Double crochet
Dc2tog-Double crochet 2 together
Tr- Treble Crochet
Special Stitches
Picot- Ch 2, sl st into the 2nd ch from the hook
Finished size: 17.5 x 14.5 inches
*Note. Turning chains do not count as a stitch.
Stitch counts are given in parentheses ( ) at the end of each row.
Font & Back of pillow (Make 2) 
(Video 1:05)
(Color White) Ch 42
Row 1: Dc in the 3rd chain from hook, dc in each st across, turn.  (40) 
Row 2: Ch2, Dc in each st across, turn. (40) (Video 1:40)
Row 3-4: Ch 2, 2 dc in same stitch, Dc in each st across, 2 dc in last st, turn (42)(44) (Video 2:12)
Row 5-6: Ch 2, dc in each st across, turn (44) (Video 3:40)
Row 7-10: Ch 2, (Dc2tog) twice, Dc across until last 4 sts. (Dc2tog) twice, turn (40)(36)(32)(28) (Video 4:03)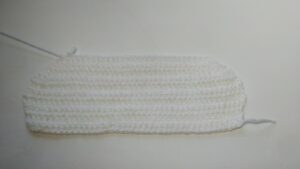 Row 11-25: Repeat row 3-10 two times, finishing on row 9 (30)(32)(28)(24)(20)(16) (8)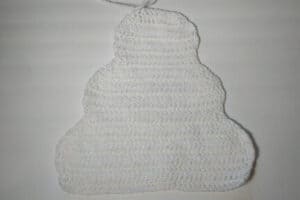 Row 26 (Color Black): Ch 1, 2 hdc in the first st, 2 hdc in the next, hdc across until the last two sts, 2 hdc in the next two  sts, turn. (12) (Video 7:21)
Row 27-32: Ch 1, hdc in each st across, turn. (12) (8:43)
Brim (Make 2) (Video 9;25)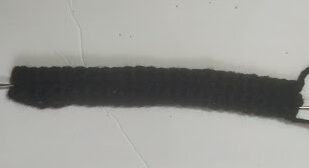 Ch 26
Row 1: Sc in the second ch from the hook, sc across. (25)
Row 2-3: Ch 1, sc in each st across, turn. Fasten off when done. 

Mistletoe Leaves (Make 2) (Video 10:30)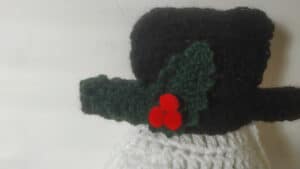 Ch 12
Round 1: Sc in the second ch from the hook,  sc in the next two sts, hdc, dc in the next 3 sts, hdc, sc in the next 2, 3 sc in the last st. You will be working underneath the original chain. Sc in the next two sts, hdc, dc in the next 3, hdc, sc in the last three sts. Don't join (23)
Round 2: *Slp st in the the next 2 sts, picot*  repeat to* around, sl st in the last st, fasten off. 

Nose (Video 15:47)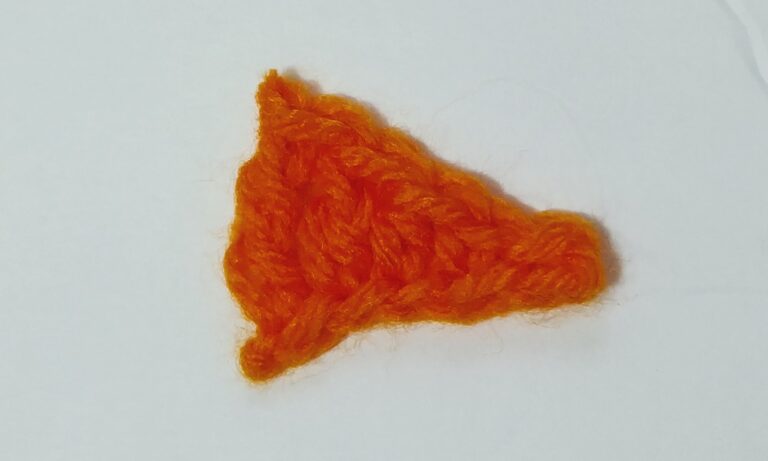 Chain 6
Row 1: Sl st in second ch from the hook, sc, hdc, dc, trb. Fasten off 
Sew on Facial features according to picture or video (video 23:17)
Putting pillow together (Video 17:43)
First attach facial feature according to picture/ video. Place front and back of pillow on top of each other. Attach yarn to bottom left of your pillow. You will be crocheting the back and front piece together. Match yarn with hat. Add Filling to pillow before closing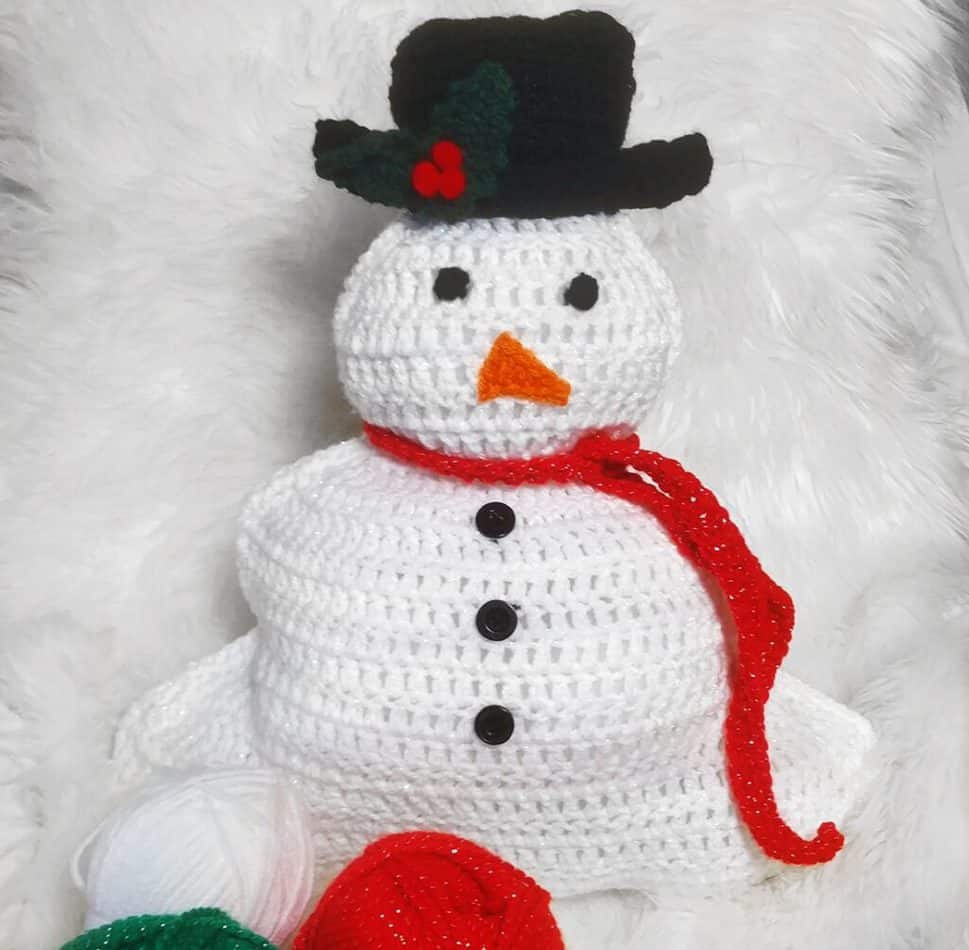 I hope you enjoyed this pattern. Make sure you save it to Pinterest so you can make it again in the future. Comment below the things you like to crochet.