Crochet Hat Pattern
It can be hard to find patterns when you are a beginner crocheter. That why I created this crochet hat pattern for beginners. I take you step by step through the process of creating this simple beanie.
The pattern using the double crochet stitch and if you are feeling adventurous, you can add a row of reverse single crochet. Don't be intimated by the new stitch remember it's a crochet hat pattern for beginners. I included a video just in case you get stuck.
More hat patterns you may like:
Scroll down for free pattern and video tutorial
*article contains affiliate links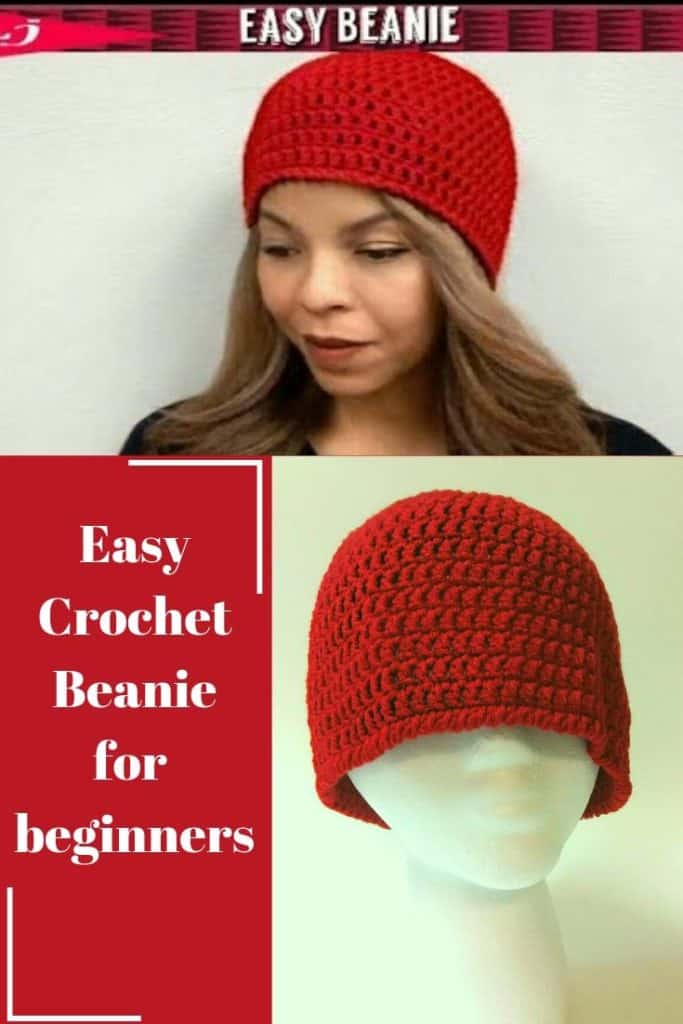 Weekly Inspiration For The Crochet Entrepreneur
Let's Get Personal
Crocheting can be a great hobby. It is a skill that not everyone can be an expert at. Think about what you want to achieve by crocheting.
Is it to fulfill a need for entertainment? Is this something to just pass the time of day? Or do you want it to bring you financial gain?
These are questions everyone should think about. Making the decision to turn your hobby into a business is a huge step.
Here is where it all gets personal. Before you start anything you should examine yourself. Ask yourself this question. Do I have the skill and ability to run a business? What obstacles would prevent me from doing the things I want? Also, what are the steps I need to do to overcome my obstacles? What are my core values? Write a list of your wants and needs.
This starts to open your eyes to endless possibilities. It is alright to have big dreams. You have to dream big to get big results. By completing the process of examining yourself you begin to challenge yourself.
You get to know what you want from crocheting. In fact this can start you on a journey of discovery for the things you want in other areas of your life.
Making the decision to turn your hobby into a business is only the first step of many. Once you make the decision you can start to set goals. A goal is knowing what you want and when you want it. By developing written strategies and tactics that you follow starts you on your journey, without them you are just dreaming.
Creating Smart Goals is an excellent way to ensure that your dream becomes a reality.  They are specific, measurable, achievable, relevant, and have a time frame. Whether they are the steps you take to complete a project for a profit or steps to make a thank you gift for a friend. It is always your choice where you let crocheting take you.
~Diane Brown

Crochet Hat Beginner Hat Video Tutorial
Written Beginner Hat Pattern
Materials
Red Heart Super Saver worsted weight 4 yarn
Video pattern:https://www.youtube.com/watch?v=k9YFN-KihA4
Stitches
Sl st- Slip Stitch
Ch- Chain
Dc- Double crochet
Sc – Single crochet
Special stitches
Reverse Single Crochet (sc) – Insert hook in st behind hook, yarn over, pull up a loop (2 loops on hook), yarn over, pull through all loops on hook.

Note: Ch 2 does not count as a stitch.

Start with magic ring or ch 5, sl st into the first st to form a ring (video 0:23)
Round 1: Ch 2, 12 dc into ring, sl st to join. (12)
Round 2: Ch 2, 2 dc in each st around, sl st to join. (24)
Round 3: Ch 2, (dc, 2 dc in next st) around, sl st to join (36)
Round 4: Ch 2, (dc 2, 2 dc in next st) around, sl st to join. (48)
Round 5: Ch 2, (dc 3, 2 dc in next st) around, sl st to join. (60)
Round 6 – 17: Ch 2, dc in each st around, sl st to join. (60)
Note: Beginners may stop here and fasten off if desired
Round 18: Reverse SC in each st around, RSC to join and fasten off (video 8:38)
If you enjoyed this crochet hat pattern for beginners, then you may like these patterns: