Where Can You Buy Cheap Yarn Online?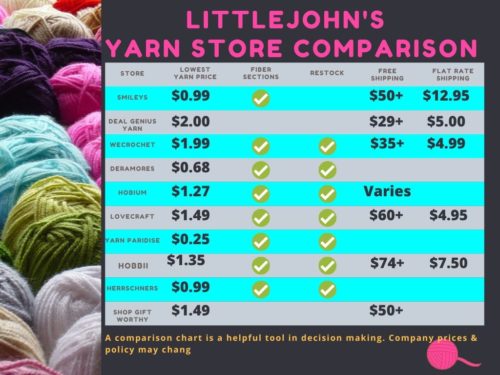 *Article contains affiliate links
Where can I buy cheap yarn? I get asked this question all the time. If you crochet as much as I do, you learn about some great hidden gems. People are amazed when they see my wall of yarn (yes I have an addiction). That I must have spent tons of money to accumulate this hoard of yarn. 
Not to toot my own horn, but I'm the thriftiest person I know.  I've amassed a poop ton of yarn over many years, but every single skein I have, was purchased at a discounted price. I'm going to teach some tips and tricks to the yarn trade.
Where Can I Get Free Yarn?
Finding cheap yarn is easy. Finding free yarn can be a little more difficult. But if you are a yarn sloth, it can be done.  Everyone knows I am a yarn nut. When holidays & birth comes around, my gift is always the same. At least I'm not hard to buy for. 
Make sure you check online for free yarn, such as Facebook marketplace, or Craigslist. Typically, on site like these you will find more cheap yarn for sale than free. Most yarn comes from families that are moving or from an elderly family member that passed away.  I once bought 250 skeins of Caron Simply for $50 on Facebook! If you every wondered why half of my tutorials are using this yarn, you know why.
Where can I buy Cheap yarn?
If you are a scavenger hunter like myself, you are here reading this article to find the cheapest places to purchase yarn. Like a mentioned before Craigslist & Facebook are great places to find cheap yarn. 
Let's not forget one of my favorites, thrift stores. Everytime I walk into a thrift store, I immediately walk to the craft section. Sometimes I find nothing, but more than not. I find the pot of gold at the end to the rainbow. To sell their yarn quickly,  thrift store will bag big lots of yarn together, making the savings even bigger.
Many overstock outlet store sell discontinue yarn at a discounted price, such as Ollie's, Big lots, Adli's or Dollar Tree (Some stores are regionally located. Check your area for your local overstock outlet store).
The Best Online Stores to Buy Yarn
I know this is what you actually came for. You want to know the best place to buy yarn online. My all-time favorite website was recently shut down DBNY short for Discontinued Brand Name Yarns. I once bought 100 skeins of yarn for $60 including shipping.
Unfortunately, this awesome gem shut down unexpectedly shut down in January 2020, leaving many yarnies upset. Moment of silence for DBNY.
Don't worry, I found a few websites that can make of for the loss. Below is a list of many websites that sell yarn at an affordable price. But before we get into the list below, there are some tips I would like to give while shopping on these sites.
Search online for Promo Codes & coupons

Check website's clearance sections

Sign up for newsletters to receive exclusive discounts & heads up on sales.

Pay attention to shipping. Depending on your location & package weight, shipping can be expensive.

Combine shipping with one of your yarn friends.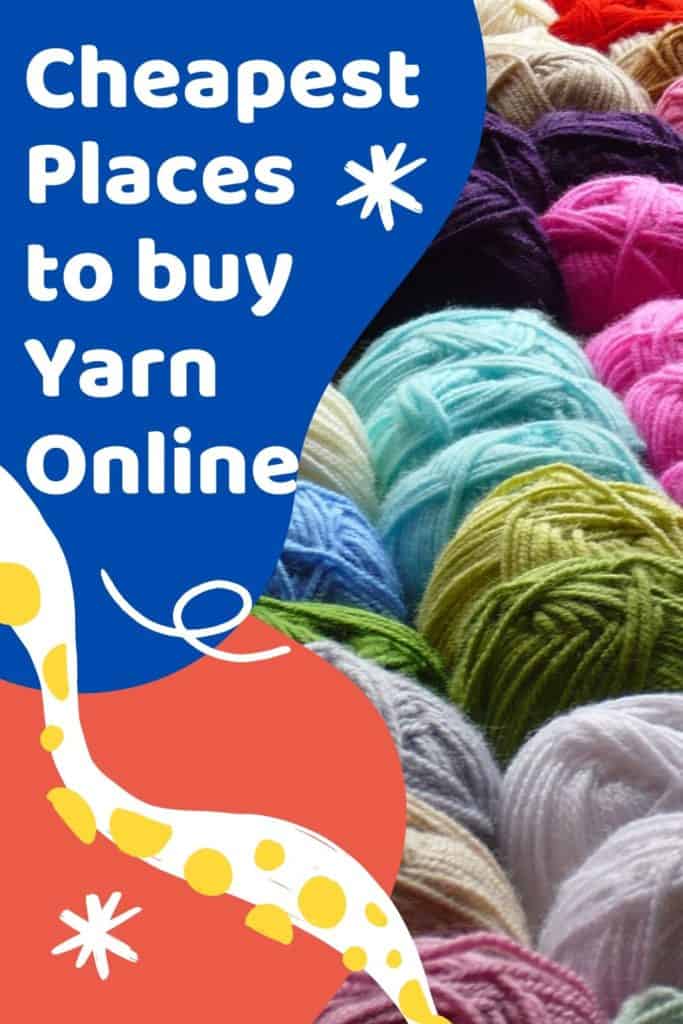 Smileys offer awesome sales such as $0.99 Super Deal & $1.47 Yarn of the Month. Smiley's Yarns, the ultimate yarn outlet offering all of its wool, cottons, mohair, silks and acrylic yarns at the lowest prices in America.
The only yarns, and colors they offer for mail order are listed in the Internet Yarn Sale Section of our website. They do not handle special requests for any other yarns or colors.
Name brand yarns include:
Bernat, Patons, Lion Brand, Red Heart, Plymouth, Yarn Art, Filatura Lanarota, Cervinia and more all at up to off 75% off retail.
Shipping Policy Flat Rate shipping $12.95 Minimum order $50 Only in contiguous US states
The selections of yarn are nothing fancy. You will find names that you see in the big box stores such as Lion Brand, Isaac Mizrahi, Red Heart, and Bernat. If you see something you like, get it. Stock varies and you can't be guaranteed to get more of the same yarn.
Shipping Policy Flat Rate Shipping $5, Free shipping $29+
They have a big selection of yarn fibers to easily fall in love with. Unfortunately they have a small selection of super low prices. You can expect the majority of the yarn to be near retail price.
Shipping Policy Free Shipping to qualifying orders shipping within the contiguous United States. Order value must be $50+. You must enter coupon code at checkout to receive free shipping. 
WeCrochet a sister company of KnitPicks, that started last year. They are selling the same yarns, but with a lower price. So you can find many of your favorite KnitPicks yarn at a super low price.
Shipping Policy Flat rate shipping $4.99 free-shipping minimum $35+ for free US shipping).
I was amazed by the large selection of fibers and the super low prices. Many of the yarn names I never heard of other than Lion Brand. I love yarn, but I don't know them all. The great thing about this site is they restock all of their yarns. No pressure to buy it all at once. 
Shipping Policy Shipping rates varies, check your area.
Hobium in an all around great craft supply store. Everytime I browse through this site, I'm like a kid in the candy shop. They have a huge selection of yarn and fibers. I once bought a purse kit from Hobium and loved it. I did a review and you can check it out HERE.
Shipping Policy Shipping rate vary, check your area.
I've sold patterns on this website, but only recently purchased yarn from this site. This is another online store with great prices and selection. Many of the yarn on the site are well known yarns that we have all use and one of my new favorites, Paint Box yarn. This is definitely one to try and its super affordable.
No need to worry about being forced to purchase yarn in fear of them selling out. All of their yarn are restocked. 
Shipping Policy Free shipping $60 Flat shipping $4.95 free returns.
The home of Ice Yarn. You either love it or hate it. You are just going to have to try this yarn for yourself. The yarn itself is not of the highest quality, but the price, color & texture selection are amazing! All of their yarns are restocked
Shipping Policy. Shipping costs are calculated based on the shipping country of your order, and the amount you buy. We apply the rates directly we get from shipping companies. Items coming from Turkey
Hobbii is the one stop shop for yarn lovers around the world. They have all you need for your next knitting or crocheting project. Located in beautiful Copenhagen, Denmark where all products are designed and all orders are packed and shipped from. You'll find a large selection of yarn brands & fibers. 
Shipping policy. Shipping $74 over free $7.5 flat worldwide.
Sometimes they have really great sales where you can get 10 skeins of yarn at a time for nearly nothing! They also after awesome crochet kits that come with a pattern and all the yarn needed to complete the project, although, it is mostly afghans. If you are into Amigurumi they have 16oz or plus bags of mill ends or random assortments that are fairly inexpensive.
This website reminds me a little of my favorite, DBNY (R.I.P.) You can buy mills end yarn at a great price. They have a huge selection of yarn. But you are not guaranteed to find the same yarn again. If an item sells out, you are out of luck. If you are going to purchase from this site. Have a pattern in mind or buy enough. This is not a one skein type of shop. 
Shipping Policy Free shipping $50 internation contact for shipping quote.
I'm saving one of the best for last. You can find some great deals. If you are looking to buy yarn in bulk. Then you are in the right place.  Warning if you see a yarn you like, buy it. Restock of yarn is not  guaranteed.
Shipping Policy: Free shipping to store
Now that you know where to purchase yarn for your next project. Learn about how to price it to sell.